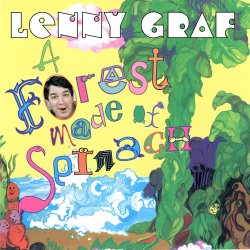 A Forest Made Of Spinach
Click here to buy this album now!
A delightful and sidesplitting collection of original songs and old family favorites including Splish Splash, Old King Cole, Rock Around the Clock and Down by the Bay. Tiger Rag features the comic rhythms of the Noise and Gadgets Machine performed with the zest of a circus reveu. Other feature tracks include Water, a top ten Radio AAHS track and the spicy Caribbean classic Day-O.
Track List:
1. My Bicycle with 17 Flat Tires



2. Water!



3. One Potato Two Potato
4. Old king Cole



5. Twinkle Twinkle Little Star
6. Shake it
7. Sam the Cat
8. Rock Around the Clock
9. Jelly in the Bowl
10. Slimy Words
11. Day-O
12. My best Friend
13. Tiger Rag featuring The Noise and Gadget Machine
14. A Forest Made of Spinach



15. Splish Splash
16. A Twister of Twists
17. It's Impossible
18. Lostland
19. Down by the Bay
20. Frogs Jump
21. Haunted House



22. Doxy
23. I'm Glad I'm Still a Kid
Go Back To The Listening Post!