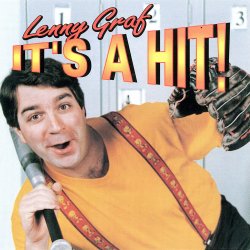 It's a ... Hit!
Click here to buy this album now!
Lenny's cheeky humor and award-winning style is showcased perfectly on this exuberant collection of traditional and original songs. Includes Air, a top ten single on Radio AAHS for 27 weeks, the ever-popular It's a Hit! plus and assortment of classics including Apple and Bananas, Does Your Chewing Gum Lose It's Flavor on the Bedpost Overnight and Ghostriders.
Track Listing:
1. Air



2. Crouton
3. Sunshine on the Hill
4. Apples and Bananas
5. Does Your Chewing Gum Lose It's Flavour
6. Skateboard Joe
7. Mom
8. Unstable Tables



9. All I Have is Me
10. It's a ... Hit!



11. Ghostriders



12. Dad
13. Clown Rock
14. Betty Batter
15. Tell Me
16. Walk With a Friend
17. Waldo Woo



18. Up, Up and Away
19. Hey Dum Diddly Dum

Go Back To The Listening Post!