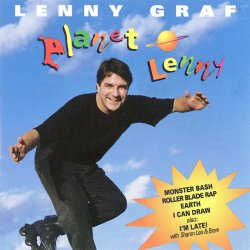 Planet Lenny
Click here to buy this album now!
A high energy mixture of original songs and old favorites. Highlights include Rollerblade Rap and I'm Late (featuring a vocal visit from Sharon, Lois & Brah). At times, Planet Lenny sounds like a Vaudeville show with dialog connected to songs by an ever-present beat. The arrangements of songs are sophiscated with horns and wind instruments playing a big role. Classic songs include This Little Light of Mine, Comin Round the Mountain, Rockin Robin and the Radio AAHS favorite, Earth.
Track Listing:
1. Garbage



2. Monster Bash



3. Lemon
4. Rockin Robin



5. I Can Draw
6. Comin Round The Mountain
7. Without A Tree
8. I'm Late with Sharon Lois & Bram



9. Galaxy Song



10. Earth



11. Guess What
12. Roler Blade Rap



13. Wonderful World



14. Fire
15. Sun In The Morning
16. Tea For The Bumble Bee?
17. Going Places
18. This Little Light Of Mine

Go Back To The Listening Post!